Specialist Motoring Offences Solicitor
Adam Law Solicitors of Sheffield can advise you on all aspects of motoring offences.We have a specialist motoring offences department and have successfully defended many people facing motoring convictions across England over many years.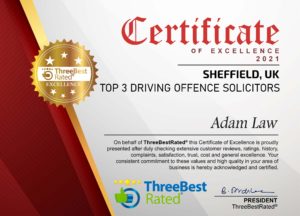 We can act and advise for all motoring offences, so if the offences we mention on this site don't relate to your situation don't worry, just give us a call us and we will be happy to advise you further.
We can assist at all stages whether you have received a fixed penalty ticket and are unsure whether to pay or defend it, or you are at the police station, or Court, or have received a summons or notice of intended prosecution.
We can assist in preparing your defence against a prosecution for a motoring offence or, if advisable, advancing your mitigation to aim to reduce the sentence and any Court costs you may have to pay.
We offer fixed fee work. If we are successful we will apply for a Defence Costs Order where our costs are met from Central Funds and your fees are returned.
Full range of motoring offences covered
We cover all motoring offences including;
Driving whilst over the prescribed limit
Our driving offence legal services
We aim to retain your reputation and licence.
Our Solicitors take your calls directly.
We offer fixed fee work. If we are successful we will apply for a Defence Costs Order where our costs are met from central funds and your fees are returned.
We rarely sub-contract work so your solicitor will represent you in the police station and
We represent clients across the whole of Yorkshire and Humberside.
We can help you or your arrested relative. You can instruct us to look after them.
Advice can be given at all stages of proceedings whether it be you are aware the police may be looking for you, or you have attended the Magistrates or Crown Court and have reached a stage beyond your knowledge.
Advice given to keep you in control of YOUR choices.
We will step in where you feel others have stalled.
Focussed on the weight of evidence which you will be provided copies of where possible.
Our approach is focused on you with you being involved at every stage as a vital member of your legal team.
Dedicated practitioners whose sole focus is criminal defence.