A&E Medical Negligence claim
Making an A&E medical negligence claim can be daunting. We are here to help you through this process. We are experts in all aspects of medical negligence and, together with our independent medical experts, we can make sure you make the best possible claim and receive the compensation you deserve.
What is A&E Medical Negligence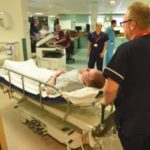 All health care professionals are under a duty of care. This means they must give you the relevant standard of care. This is generally assessed as the standard expected of an 'ordinarily competent practitioner'. Neglect happens when the care you have been given falls below that standard.
Medical neglect can cover many shortcomings: Your treatment could be inadequate or inappropriate. You may be misdiagnosed, or a condition may not be diagnosed at all. You may have be given the wrong drugs or the wrong dosage. There are many other ways in which negligence can occur. Here are some of the more common A&E medical negligence claims;
Misdiagnosed bone fractures
Incorrect medication
Incorrect treatment
Delayed treatment
Hospital infections
Inadequate patient examination
Inadequate medical investigation
Misinterpreting exam or test results
Inadequate postoperative care
Despite the fact that many A&E departments are hectic and often short staffed, with many patients waiting for long periods, the duty of care remains.
What can I claim for A&E Medical Negligence?
An A&E medical negligence claim can cover more than the direct instance of negligence. That would usually compensate you for pain and suffering related to additional injury or sickness caused by the negligence. But you may need additional compensation for example:
The cost of additional medical treatment caused by the negligence
Loss of earnings as a result of medical negligence
Any resulting psychological damage
Ongoing care costs
Loss of life expectancy
How much will my claim be worth?
Most claims are complex and have a unique mix of items. This makes it unwise and unhelpful to speculate on the worth of a claim before having a thorough review of your experience. Our team has the expertise and experience to make a realistic assessment of the value of your claim.
What should I do to make my claim?
The first step is to get in touch with us at Adam Law Solicitors to arrange an initial consultation. This can usually take place over the phone and typically takes less than half an hour. The aim of this consultation is to assess whether your claim has 'merit', meaning that you have good grounds for making a claim for compensation.
Please see our clinical negligence Frequently Asked Questions for more information.